Irish presidency election: nominations to close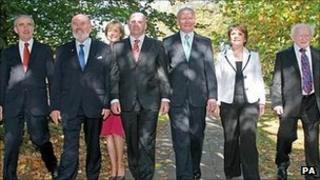 Nominations for the Irish presidential election will close later with seven candidates in the race.
Senator David Norris and former pop star Dana Rosemary Scallon received last minute backing from local councils to secure their places on the ballot.
They joined independents Sean Gallagher and Mary Davis, Labour's Michael D Higgins, Fine Gael's Gay Mitchell and Sinn Fein's Martin McGuinness.
The election will takes place on 27 October.
The role of Irish president is largely ceremonial, nevertheless election campaigns for the role are robust and, at times, combative.
Current president Mary McAleese, the first to have been born in Northern Ireland, is stepping down after fourteen years in the post.
Mr McGuinness's entry into the race has been controversial with debate surrounding his past in the Provisional IRA and his subsequent role in the peace process and as deputy first minister in Northern Ireland.
The participation of Mr Norris, an academic and gay rights campaigner, has also prompted much discussion.
He re-entered the race after withdrawing because of controversy surrounding a letter he wrote to an Israeli court pleading for clemency for his former partner.
Ezra Yitzhak had been convicted of the statutory rape of a 15-year-old boy.
Mr Higgins, considered one of the front-runners, is a former Labour minister while his Fine Gael opponent Mr Mitchell currently serves in the European Parliament.
Sean Gallagher is a successful businessman who previously served as an advisor to the opposition Fianna Fail party. Mary Davis came to prominence as the organiser of the Special Olympics in Ireland in 2003.