ITV documentary in IRA computer game blunder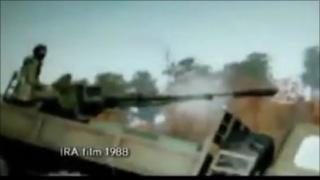 ITV has apologised after footage it said was from an IRA propaganda video was in fact from a computer game.
The pictures were used in "Exposure", a documentary aired on ITV1 on Monday which focused on Colonel Gadaffi's links with the republican movement.
It claimed footage labelled "IRA film 1988" was of terrorists using Libyan weapons to shoot down the aircraft.
The pictures were from a game called ArmA 2. ITV has said the mistake was "an unfortunate result of human error".
The website PC Gamer first raised concerns about the footage which showed black smoke pouring out of the stricken aircraft.
In a statement ITV said: "The events featured in Exposure: Gaddafi and the IRA were genuine but it would appear that during the editing process the correct clip of the 1988 incident was not selected and other footage was mistakenly included in the film by producers.
"This was an unfortunate case of human error for which we apologise."
Marek Spanel, chief executive of the game's developer Bohemia Interactive Studio, told games website Spong that he was unsure how ITV had made such an "obvious" error.
"On a somewhat more positive note, we consider this as a bizarre appreciation of the level of realism incorporated into our games," he added.
ITV has taken the documentary off its catch-up service ITV Player.