Dana in Irish presidential election after fourth council nomination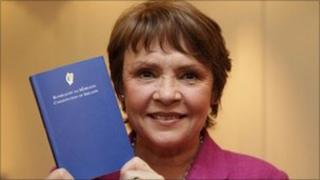 Former singer Dana Rosemary Scallon has secured her fourth nomination from a county council in Ireland.
She will now be included in the ballot for the Irish presidential election on 27 October.
Dana was nominated as a candidate by Offaly County Council on Tuesday afternoon.
Irish senator David Norris has the support of three county councils. The backing of four is necessary to stand in the presidential poll.
Dana had already received the support of Carlow, Roscommon and Donegal county councils.
On Tuesday, Mr Norris secured the backing of Waterford County Council but councillors in Cork voted against his nomination.
He already has the support of the authorities in Laois and Fingal.
Mr Norris re-entered the race after withdrawing because of controversy surrounding a letter he wrote to an Israeli court pleading for clemency for his former partner.
Ezra Yitzhak had been convicted of the statutory rape of a 15-year-old boy.
The deadline for nominations for the presidential poll is at 12:00 BST on Wednesday.
There are already five candidates - Fine Gael's Gay Mitchell, Labour's Michael D Higgins, Sinn Fein's Martin McGuinness and two independents, Mary Davis and Sean Gallagher.
Candidates need the backing of either 20 members of parliament or four local authorities.