Presidential election: Norris expecting nomination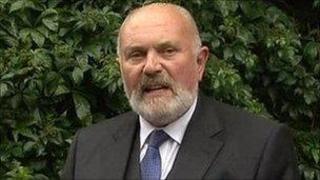 Irish senator David Norris has failed to secure the backing of South Dublin County Council in his bid to become Irish president.
Mr Norris and Dana Rosemary Scallon are the two remaining hopefuls who have not secured the nominations they need to take part in the race.
Both have the support of two county councils but need the backing of four to stand in the October poll.
Mr Norris has said he still expects to secure the necessary backing.
There are already five candidates - Fine Gael's Gay Mitchell, Labour's Michael D Higgins, Sinn Fein's Martin McGuinness and two independents, Mary Davis and Sean Gallagher.
Candidates need the backing of either 20 members of parliament or four local authorities.
Dana, a former Eurovision Song Contest winner who came third in the presidential election in 1997, has been backed by Carlow County Council and Roscommon County Council.
Mr Norris is supported by the authorities in Laois and Fingal.
He said he will now go to councils in Cork, Waterford and Dublin City.
He has re-entered the race after withdrawing because of controversy surrounding a letter he wrote to an Israeli court pleading for clemency for his former partner.
Ezra Yitzhak had been convicted of the statutory rape of a 15-year-old boy.