Castledawson man Ciaran Gribben is new INXS lead singer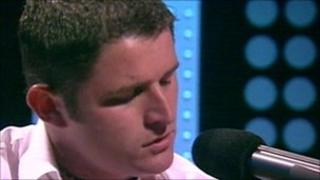 A Northern Ireland musician has spoken of his disbelief at being selected as the new lead singer with legendary Australian band INXS.
Ciaran Gribbin, from Castledawson in County Londonderry, will perform with the group for a series of concerts in South America, Australia, and Europe during November and December.
He has already collaborated on a demo recording with the band, who have sold millions of albums globally, entitled Tiny Summer.
The group's last album, Original Sin, was a tribute to their former singer Michael Hutchence, who fronted INXS for 20 years.
Hutchence was found dead on 22 November 1997 in a Sydney hotel.
A coroner found the 37-year-old performer had died from suffocation caused by hanging.
Mr Gribbin said he would not attempt "to be a clone of Michael Hutchence".
"I know the legacy that is left behind of such a great singer and songwriter as Michael Hutchence," he added.
"I know that you can never fill those shoes.
"All you can do is respect what has gone before and when I walk on that stage give the fans my best attempt at what I can do with those wonderful songs."
INXS songwriter Andrew Farriss said Mr Gribbin's role in the band had evolved from a friendship between the pair.
"Ciaran has one of the most amazingly distinctive voices of our time and I know he has some fairly similar traits in songwriting and music," he said.
"That gives us a lot of common good.
Madonna
"When I saw his own songwriting credits I was really impressed, I thought this could really lead somewhere."
The Northern Ireland artist is known for his work under the name Joe Echo, and featured on the soundtrack for the film Killing Bono.
He was one of the co-writers of the Madonna release 'Celebration'.
Mr Gribbin told BBC Radio Ulster's Alan Simpson Show that the opportunity with INXS had come at a time when he was "a bit disillusioned with where he was going".
"I was trying to pull back from the gigging front and focus more on soundtracks for movies and writing for other artists," he said.
"A week after making up my mind on that, I got the call from Andrew, it was 'Do you fancy coming down to Australia and doing a bit of writing?'.
"It was natural, it was organic, it wasn't planned from day one or anything like that.
"I have been knocking around in Northern Ireland for quite a long time and to hear those words that I'm the singer of INXS is just unbelievable.
"There is a very happy Castledawson man in Australia at this point in time."