Age of responsibility increase sparks 'hug a hoodie' row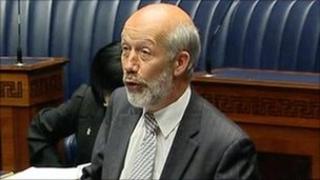 The DUP has criticised plans to increase the age of criminal responsibility as 'a hug a hoodie' approach.
On Friday the BBC revealed a review of the youth justice system was to propose an immediate increase from 10 to 12.
The Justice Minister David Ford told the assembly on Monday he would prefer to "reform a hoodie".
However the DUP's Paul Givan said he wanted the age lowered not increased.
Mr Ford was outlining the recommendations of a team set up to review the youth justice system.
Among its proposals, it has recommended an immediate increase in the age of criminal responsibility to 12 with the possibility of a future increase to 14.
'Hang a hoodie'
Mr Ford said the change would remove only 27 current cases from the courts, or 2.5% of the total.
He added that the recommendation on the age of criminal responsibility was only one element in a wide ranging review.
The DUP chair of the assembly's Justice Committee Paul Givan criticised the increase but Green MLA Steven Agnew slammed the DUP's "hang a hoodie" policy and supported the recommendation.
The review was set up as a result of the Hillsborough agreement on power sharing.
The team has been working on its report since November last year. The proposals will now go out for consultation.
BBC Northern Ireland's Political Editor Mark Devenport said that before it becomes law, the proposals would have to get cross-community support in the assembly, which could prove difficult.
When the Bill of Rights forum suggested a more radical increase in the age of criminal responsibility to 16 back in 2008, the idea caused a furore, with some unionists denouncing it as a "hoodies' charter".