X Factor's Janet Devlin gets top marks from headmaster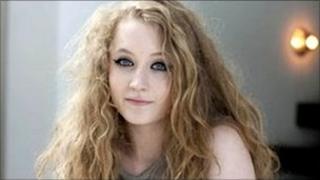 The headmaster at X Factor starlet Janet Devlin's school has spoken of his pride at her achievements in the competition.
The County Tyrone teenager has jetted out to Miami after making it through to the next stage of the television show with a stirring performance of Aerosmith's I Don't Want To Miss A Thing.
The 16-year-old singer from Gortin wowed a crowd of 5,000 people at Wembley Arena on Sunday night to seal a spot in judge Kelly Rowland's house.
She will now be mentored by the former member of Destiny's Child who will be joined by former American Idol contestant and Oscar winner Jennifer Hudson.
Nigel Frith, the principal of Janet's school, Drumragh Integerated College, said he was delighted at her success to date.
He said Janet was "living the dream" at present, but that the option was there to return to the school and study for her A-Levels even if she wins.
"We have encouraged her to keep an eye on her A Level studies as showbiz is a fickle business and it is good to have a back-up plan," he said.
"If she is to go all the way and win the competition she is welcome to return to us next September."
Mr Frith said Janet's fellow pupils had taken her new-found fame "in their stride" as she progressed through the competition.
"She has not been treated as a pop star," he added.
"When she returned to school for a brief period at the start of the term, she would sit in the canteen with her friends.
"She was not mobbed by autograph hunters.
"When her GCSE results came out there were a lot of reporters in the car park, but she waited until most people had gone before getting them."
The X Factor judges were fulsome in their praise for Janet at the weekend with Louis Walsh tipping her as the "one to beat in the competition".
Take That singer Gary Barlow said:"Every time she sings, it's like I've never heard that song before and I like it better."
The headmaster said the school had been aware of her musical prowess and that this had been illustrated when she reached the final of a regional talent competition in Northern Ireland.
"She was involved in music both in and out of school, a lot of it is self-taught, people will have seen her videos on YouTube," he added.
"She won the local heat of the Stars In Their Eyes competition which was held in the school and went through to the final in Belfast, that was about six months ago."
He described Janet as an intelligent girl and said he was impressed with the way she had handled herself both on and off stage.
"She speaks well and does not come across as half-crazed like some contestants," he said.
"She is balanced and humble."