Granddaughter of victim says Gusty Spence was not a peacemaker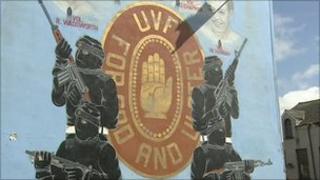 The granddaughter of a woman who was killed by the UVF has said Gusty Spence was not a peacemaker.
Matilda Gould, a 74-year-old Protestant grandmother, was one of the first victims of Gusty Spence's Shankill UVF gang back in 1966.
Her granddaughter, who asked not be named, told the Nolan Show that people should never forget the horrendous crimes committed by Spence.
The 78-year-old died in hospital at the weekend after a long illness.
"My granny was crippled with arthritis," she said.
"She lived next door to a Catholic man who owned a pub next door.
"Her house was painted the same as the mans so my granny was in the house, my mummy was there and she left just an hour before the petrol bomb.
"They just threw it in through the window and that was it.
"She was just really burnt to a cinder. My mummy was just away an hour and she would have got it too."
Sanctioned
She said everybody in the Shankill knew her granny.
"They called her Tilly, and she helped everybody, she didn't deserve what she got," she said.
"Apparently there were four of them, Gusty Spence sanctioned it.
"All because it was a Catholic bar and my granny lived next door."
She described Spence as a "bad man".
"Who would do that to a 74-year-old crippled woman who crawled into the hall to try and get out?
"Her whole house was burnt and she lived for about six weeks.
"My grandmother had three skin grafts."
She remembers going to visit her granny in hospital.
"You weren't allowed in to see her unless you had all the gear on," she said.
"It was absolutely horrendous. All you could see were the slits in her eyes, mouth and nose. She was all bandaged up."
She finds it hard when the former loyalist leader is lauded as a man of peace.
"To me he's not getting put on a pedestal," she said.
"He's not the Gusty Spence that everybody now is putting on a pedestal.
"It affected us very badly.
Forgotten
"It mad me feel mad, he wasn't in the sixties, he wasn't a peacemaker.
"When you go out and throw a petrol bomb through a widow's window, you're no peacemaker."
She said it saddened her that her grandmother's death had been largely forgotten.
"She is never mentioned because it happened at the start of the Troubles," she said.
"Peter Ward is mentioned, maybe because Gusty Spence shot him.
"He is still the man who sanctioned my granny's murder. He killed her, it's as simple as that.
"I would just like people to know what he did. My granny suffered an awful death."