Belfast to New York air passenger tax may be scrapped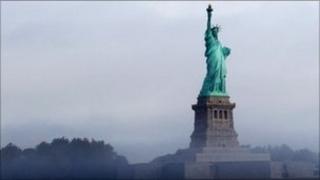 The Chancellor George Osborne has personally intervened to try and save NI's only direct air link to the United States.
A deal on Air Passenger Duty that would exempt the transatlantic route could be announced this week.
The cost of the tax has been threatening to kill off the daily service between Belfast and New York.
It adds £60 to an economy fare and £120 to a business ticket. But the tax out of Dublin airport is just three euro.
Air Passenger Duty is paid on all flights leaving UK airports.
Continental airlines fly from both airports and say they've been swallowing the tax cost in Belfast in order to avoid passengers simply opting for Dublin.
This, the company told MPs recently, would cost them £3.2m this year and meant the route was no longer viable.
The route is seen as vital for promoting trade and inward investment.
Negotiation
Industry sources said Continental was poised to announce last week the end of the route from January next year but held off due to the ongoing work at the Treasury to reach a solution.
The Chancellor George Osborne, urged on by Secretary of State Owen Paterson and executive ministers, has personally overseen negotiations on a deal that should save the route.
The tax cost to Continental will be removed and in the longer term power over the tax will be devolved to Northern Ireland.
The Scottish Highlands and Islands already enjoy an exemption from the tax.
Northern Ireland's exemption will be more limited and will not apply to short-haul flights.
Saving the route will be a huge source of relief to the Northern Ireland Executive and the wider business community.
Companies like the New York Stock Exchange have cited the direct link as vital in their decision to invest here.