Martin McGuinness 'not appropriate' for presidency - Shatter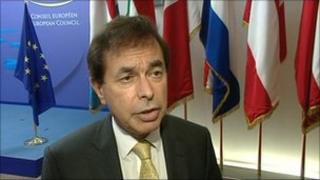 Irish Justice Minister Alan Shatter has said he does not believe Martin McGuinness is an appropriate person to be Ireland's next president.
He is the first Irish cabinet minister to comment on Mr McGuinness' candidacy.
Mr Shatter said the deputy first minister was doing an important job in Northern Ireland but his failure to embrace the Queen's visit meant he was not the right person to be president.
Sinn Fein's Mary Lou McDonald said the electorate would make that decision.
"I find it completely wrong that a government minister would interfere in the democratic process in such a manner," she said.
"It is the people who will decide who is fit for the office of president and not Alan Shatter or the Fine Gael Party."
In an RTE interview on Friday, Mr Shatter said he believed Mr McGuinness could not be a reconciling force across the whole island of Ireland.
"I think Sinn Fein's failure and his particular failure to embrace the Queen's visit that took place four months ago, and his failure to turn up to Dublin Castle to a dinner hosted by President Mary McAleese at a time when Peter Robinson and his wife attended, indicate that he isn't an appropriate person to be our president," he said.
Mr Shatter, whose Fine Gael party colleague Gay Mitchell is also a candidate, said most people were aware of Mr MGuinness' "exotic background".
He added that it would be unusual "to say the least" if he was to become the ceremonial head of the Irish defence forces.
The five confirmed candidates are Mr McGuinness, Fine Gael's Gay Mitchell, Labour's Michael D Higgins and independents Mary Davis and Sean Gallagher.