Nama takes over some loans of NI property group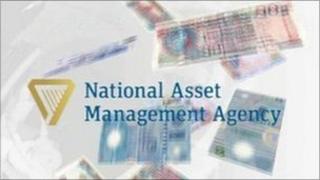 Another major NI property group has confirmed that some of its loans have been taken over by the Irish government's National Asset Management Agency (Nama).
The details are contained in the accounts of three companies controlled by the Newry-based Murdock family.
The accounts state that loans were transferred to Nama in October and November 2010.
Nama buys and manages property loans which were made by Dublin-based banks.
It was set up by the Irish government in an attempt to save the country's ailing banks.
The agency is sometimes referred to as a "bad bank" but it takes over "good" loans, which are being repaid, as well as bad loans.
The Murdock companies which have had loans moved into Nama are Rathdrum Properties, Murdock Nursing Homes and Clyduff.
Clyduff's accounts state that the company's Bank of Ireland loans were taken over in October 2010.
A list in the account shows the security for the loans include the Highgate Retail Park in Birmingham which the company bought for a reported £11m in 2006.
Loans
Other properties which act as security for the Bank of Ireland loans include shops in Liverpool and Kent as well as land in Warrenpoint and Dungannon.
In all, Clyduff has outstanding bank loans of £21m, though some of that is due to Ulster Bank and Bank of Scotland Ireland.
The accounts for Murdock Nursing Homes and Rathdrum Properties state their loans were transferred in November 2010.
Documents filed at Companies House suggest those loans were originally made by Anglo Irish Bank.
Rathdrum Properties registered an Anglo mortgage against land in the Rathfriland Road area of Banbridge in 2008. The company has creditors of around £10m.
Murdock Nursing Homes registered an Anglo mortgage against four nursing homes in Bradford, Sheffield, Castleford and Osset also in 2008. That company has creditors of around £20m.
In common with all Nama clients, the Murdocks have submitted detailed business plans and state they are "confident" the plans will be approved and "that support will enable the group to trade through the current difficult market conditions".
The Murdocks best known business is their chain of building merchants, but they also have extensive property interests, including the Crescent Link Retail Park in Derry and other shopping centres in England and Scotland.