A grave business for headstone cleaner Maurice Patton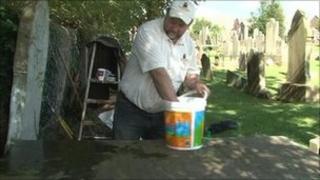 One County Down man has turned an "after thought" about the after-life into a business.
Maurice Patton from Newtownards got his divine inspiration for starting a business after visiting a family grave in the town's Movilla Cemetery.
"I was really shocked to see that my great grandfather and grandfather's family grave had got into such a dishevelled state.
"The stone had split in two or three different places and, as we got to repairing it, we thought maybe there is a potential business here."
As well as repairing headstones and memorials, Mr Patton's company Grave Concern Ireland also cleans them up and tidies around the plot.
He said his clients are people who are not well enough or live too far away to tend to their own family's graves.
"Our initial work is split into two different types," he said.
"We do initial restoration work on the grave - that can entail just giving it a good clean, to maybe putting in new foundations and things like that.
"We will then offer a service contract with the people who we can put floral tributes on for."
Marc Taylor lives in London with his mother and his grandmother who is from Northern Ireland and Mr Patton tends to her late mother's grave.
"For my mother and my grandmother, it is really very important," Mr Taylor said
"At the end of the day they are your relatives and you want to provide them with a grave that is worthy of them.
"The grave dated back to the 1930s because I think my great great grandfather had been buried there so it was a very old grave.
"He (Mr Patton) did an amazing job of cementing it, cleaning the marble, putting the lead letters back on, painting the rails, adding stones - so there was a lot of work there to do because obviously it was a very old grave."
Mr Patton said people were still concerned about their ancestry and roots.
"We have now taken the step to actually make a few contacts with geneaology companies and have web links with them so people can go and find their family trees out," he said.
"Then we can go and have their graves cleaned up for them and we can email them photographs back.
"We have recently done some work for a guy in Indonesia."
Mr Patton has recently picked his own plot in this same graveyard.
It looks down over his family's farm and Strangford Lough - with Scrabo Tower in the background.
He said he hopes someone will look after his grave when the time comes.