McGuinness says he never shot or killed anyone while in IRA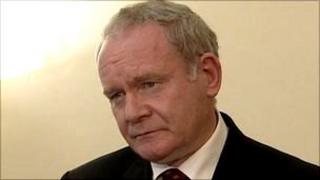 Martin McGuinness has said he did not kill or shoot anybody while he was a member of the IRA between 1970 and 1974.
However, he would not say if he had shot at anybody during that time.
Speaking on local radio in Cork, Mr McGuinness said he would not say what role he played in the IRA in Londonderry in the early 1970s.
Sinn Fein confirmed on Sunday it was backing Mr McGuinness' bid to become Irish president in October's election.
Earlier this week, he accused the media of trying to "whip up the feelings of victims" over his decision to stand.
On Thursday, he said he was not prepared to get into what he had done in the IRA on a daily basis and was asking people to judge him "in the round".
Gun use
When it was put to him that he was saying he did not use guns during his time in the IRA, Mr McGuinness said he was not saying that.
He added he would not divest himself of his responsibility while he was in the IRA. He said if he detailed his role int he IRA in Derry, it would leave him open to charges that he was being boastful.
The Mid Ulster MP repeated his charge that there were people who were totally hostile to what he represented, and this included "a small minority" of journalists.
Mr McGuinness said he was very satisfied that the foundation stones he had laid in Northern Ireland over the past five years with Peter Robinson and Ian Paisley would go from strength to strength.
He also said he believed the IRA army council no longer existed.
In a text poll run by the radio station, Cork 96FM, this morning, Mr McGuinness emerged with 61% support, followed by David Norris on 15%. All other candidates came in on single figures.
The five confirmed candidates are Mr McGuinness, Fine Gael's Gay Mitchell, Labour's Michael D Higgins and independents Mary Davis and Sean Gallagher.