Off-licence sign 'racist and indefensible'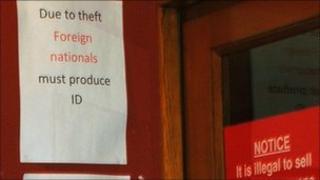 A sign pinned to the front door of an off-licence in County Londonderry has been condemned as both racist and indefensible.
The sign outside Regional Wines in Draperstown read: "Due to theft, Foreign nationals must produce ID".
The Northern Ireland Council for Ethnic Minorities has condemned whoever put up the notice.
The group claimed it violated the Race Relations Order.
"In terms of the law, you cannot defend the indefensible," said Fran Barlet, communications officer with NICEM.
"This is in violation of the Race Relations Order and it is really a matter for the Equality Commission to deal with."
No-one at the off-licence was available to comment on the matter. It is understood the sign has been removed.
Patsy McGlone, SDLP, said: "I would hope that the owners would catch themselves on and remove this.
'Reconsider'
"If this had said: 'Due to theft, Irish speakers must produce ID' and there are many in that area or 'Due to theft, blacks must produce ID', of course it would be deeply offensive and racist when it is pointed at foreign nationals many of whom contribute very positively to the local economy and to the vibrancy and life of local society.
"I do think they have to reconsider why they put this up in the first place and to get a grip of themselves."
In a statement, the NI Equality Commission said under the Race Relations Order it was unlawful for anyone providing services or selling goods to discriminate on grounds of colour, race, nationality or ethnic or national origins.
"Discrimination may include a refusal to provide goods or services to a person of a particular nationality in the same manner and on the same terms as they would be provided to any other member of the public," a spokesman said.
"If someone believes they have been subjected to such discrimination they may take an action in the County Court and the Equality Commission can advise anyone in that situation.
"In addition, the law makes it unlawful for anyone providing goods or services to operate a discriminatory practice or to publish an advertisement indicating an intention to discriminate. The Equality Commission can bring proceedings to the county court where it appears to the commission that a person has done this."
The statement said that when considering such proceedings, it was not the commission's practice to make any public comment.