Murder victim Maire Rankin 'beaten with crucifix'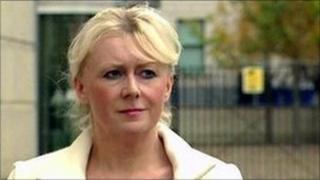 Facial injuries suffered by a murdered Newry pensioner were caused by being beaten with a crucifix, a trial has heard.
Northern Ireland's state pathologist was giving evidence in the trial of Karen Walsh, 45, who is accused of the murder of 81-year-old Maire Rankin.
She denies beating the pensioner to death on Christmas Eve 2008.
Prof Jack Crane said Mrs Rankin had bruising on her chin consistent with the crown of thorns on Jesus' head.
He said considerable force had been used to cause extensive bruising to the scalp and face and that Mrs Rankin had been subjected to a series of punches or blows with a blunt instrument.
He said the pensioner also had 15 broken ribs which, he suggested, might have been caused after death.
Prof Crane gave evidence of other internal bruising and bleeding which he said indicated some form of sexual assault.
'Friendly woman'
On Thursday, the jury in the trial watched video taped interviews that the accused had taken part in with the police the day after the killing.
At the time, Mrs Walsh was considered a witness, not a suspect in the case.
During the interview, she is heard to describe her neighbour as "a friendly woman" who had introduced herself when she and her husband moved into the area about a year before the murder.
Mrs Walsh said she had only met Mrs Rankin a couple of times, but that she had visited her in her house on several occasions.
The accused said on Christmas Eve night 2008, she had called in to bring a card and a bottle of vodka to her neighbour.
In the interviews, she described how she had gone up to Mrs Rankin's bedroom that night and found her in the chair by the window.
She said she sat on the bed, they had chatted and Mrs Walsh had drunk some of the vodka she had brought.
Mrs Walsh described Mrs Rankin, who had underlying health issues, as being "very wheezy", and that she had told her husband this when she returned to her own home.
She said she had drunk neat vodka from the bottle that she had brought at Mrs Rankin's suggestion.
She said she had finally gone home when she could not find an inhaler downstairs.
Mrs Walsh said she had slept in her clothes that night. Her husband woke her at 11:30 BST the next morning with the news that their neighbour's house was sealed off.
Mrs Walsh said she thought: "Oh my sweet divine, I was probably the last person there. They are probably going to think it was me."
The trial has already heard claims that Karen Walsh had visited her neighbour at about 22:00 BST and stayed for half an hour. She said when she left, Mrs Rankin was alive.
The case continues.