Sisters brand Bloody Sunday compensation offer 'repulsive'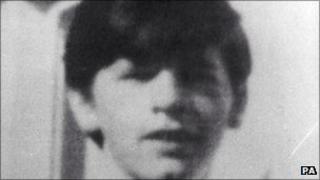 Two sisters of one of the men killed on Bloody Sunday have described the Ministry of Defence's offer of compensation as "repulsive".
William Nash, 19, was among 13 people who died after members of the British Army's Parachute Regiment opened fire on civil rights marchers in the Bogside area of Londonderry on 30 January 1972.
The government is to pay compensation to the families affected.
Mr Nash's sisters, Linda and Kate, said they would never accept MoD money.
"It is repulsive, offensive," Linda Nash said.
"Not now or at any time will I accept money.
"I've already told my legal team I want to go forward with prosecutions."
Her sister Kate Nash said her view was that her brother's life was "too worthwhile to accept monetary compensation".
"Nothing can compensate for his loss," she added.
"He was too precious.
"The only thing that can give me peace is if the perpetrators are brought to justice."
The Ministry of Defence has confirmed it intends to resolve compensation claims as quickly as possible, following a request to prime minister David Cameron from Belfast law firm, Madden and Finucane, who represent most of the Bloody Sunday families.
Kate Nash said the issue of compensation had never been discussed at any of the meetings the families had participated in.
Her father, Alexander Nash, saw his son being shot on Bloody Sunday and went to help him. He was then shot and wounded himself.
Ms Nash also said that she would not consider accepting compensation as part of the resolution of any class action taken by the families "under any circumstances".
Linda Nash supported this comment and said her mother had been offered an ex-gratia payment of £250 by the government in the 1970s.
"She didn't take it then and I will be doing the same," she added.