PSNI boat tows tourists to safety on Lough Erne, Fermanagh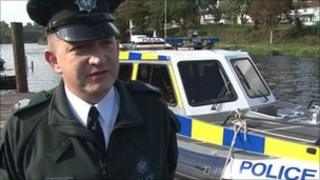 A boat containing tourists visiting County Fermanagh has been towed to safety by police after running aground on Lough Erne.
A police boat went to the rescue of the four tourists after their cruiser ran aground during heavy rain and wind at about noon on Wednesday
The hired cruiser hit rocks close to Enniskillen police station and was towed to a mooring at the Round O Quay.
The three men and a woman on holiday from the Maldives were uninjured.
All four tourists are aged in their 20s.
Sergeant Keith Hicks said the group were waiting 45 minutes before they were brought to safety.
He said "horrendous" weather conditions with almost 10ft waves "had pushed them onto the rocks and thus the engine had failed".
"One of the crew came out and indicated that they were in trouble and waved the flag of the Maldives, so we realised they were foreigners over here on a holiday," he added.