£2,257 spent refurbishing Marian Price Maghaberry unit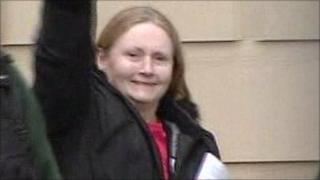 More than £2,250 has been spent refurbishing a unit of Maghaberry Prison for its sole occupant - alleged dissident republican Marian Price.
The cost of refurbishing Glen House was revealed in an assembly answer from Justice Minister David Ford to the DUP's Lord Morrow.
The £2,257 total includes a flat screen TV/DVD combo in Price's cell.
Price, 57, has been charged with providing property, namely a mobile phone, for the purposes of terrorism.
The charge is linked to the murders of Sappers Patrick Azimkar and Mark Quinsey at Massereene barracks in Antrim in March 2009.
Mr Ford said Glen House had been refurbished so it was consistent with the accommodation provided to female prisoners in Hyebank Wood.
Price's cell was outfitted with the TV/DVD, a computer, curtains and a duvet set and a lamp, mat and cushions.
Among the items provided for the recreation room were another flat screen TV, with a digi box and DVD player, a coffee table, book case, pictures and a mat.
More money was spent on a picnic bench for the exercise yard, a summer seat and a total of 18 pots and planters containing flowers.
Price and her sister Dolours were jailed for their part in an IRA London bombing campaign in 1973 which included an attack at the Old Bailey.
Lord Morrow said the money spent on her prison accomodation was "insulting".
"Basic human rights and conditions are mandatory within prisons, but the extent of outlay which has gone into accommodating Marion Price is simply insulting," he said.
"What is so special about prison inmates that they must be provided with luxuries such as a flat screen TV, with digibox and DVD player, computer, bookcase, pictures, a coffee table and numerous soft furnishings?
"It sounds like she is living in a hotel suite as opposed to a prison cell."