Northern Ireland electricity prices could rise again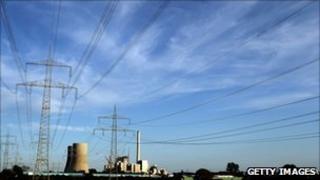 Electricity prices in Northern Ireland could rise again next year due to necessary investment in infrastructure.
The electricity regulator, Ofreg, surprised politicians on Stormont's enterprise committee with news that planned investment could push prices up by over 12%.
NIE, which owns the grid, has made it clear it needs to spend around £900m over the next five years.
Ofreg will consult publicly about any investment or potential price rise.
Most of NIE's proposed investment will be required to maintain the transmission system.
It will cost around £200m to connect all the new wind turbines that will form part of an alternative energy supply.
There will also be investment in a new interconnector.
The new contract will not come into force until April next year.