Was Orangeman Edward De Cobain jailed for a crime he didn't commit?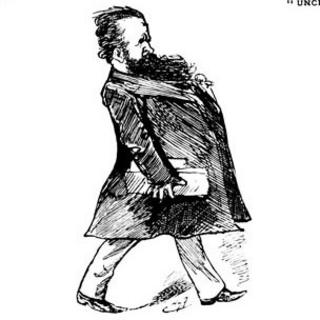 Was a Belfast MP who was given 12 months hard labour for acts of gross indecency framed? A BBC Radio Ulster documentary has chronicled the controversial life of Edward De Cobain. BBC NI's Political Reporter Stephen Walker has been following a story of power, sex and ultimately disgrace...
The new Public Records Office in Belfast's Titanic Quarter houses some fascinating documents.
The archived boxes of papers and files are a treasure trove for journalists, historians and anyone interested in researching the past.
It is home to many secrets.
Last month producer Robin Sheeran and I spent hours in the reading rooms going through court reports and witness statements from one of the most scandalous trials of the 1890s.
We were interested in the case of Edward Samuel Wesley De Cobain, a former MP and Orangeman who was found guilty of committing acts of gross indecency.
De Cobain was a colourful figure who had taken on the political establishment and surprisingly won the East Belfast parliamentary seat as an Independent Conservative in 1885.
A street preacher and a Orange Order Grand Master he often made anti-Catholic statements which meant he attracted headlines and enemies in equal measure.
He antagonised the Royal Irish Constabulary in 1886 when he criticised their handling of the Belfast riots. He also came into conflict with the city's industrialists when he promoted workers rights a stance that put him at odds with Sir Edward Harland who was Belfast's biggest employer.
In 1891 the East Belfast MP's life changed forever when the police issued a warrant for his arrest.
He was charged with committing acts of gross indecency with men at his Ormeau Road home and in a city centre office.
A senior police officer travelled to England to interview the politician, but he could not be found. The parliamentarian had escaped to France and Spain and eventually went to the United States of America where he became a street preacher in Brooklyn.
De Cobain finally returned home after two years of exile. By that stage, he had been thrown out of the Orange Order and had been expelled from the House of Commons.
The case came to court and on St Patrick's Day in 1893 his trial began. The former MP claimed he had been the victim of blackmail and his barrister alleged that the charges were as a result of a conspiracy.
The court heard how the MP had allegedly kissed a number of men and touched them inappropriately. The twelve man jury took just 40 minutes to return a guilty verdict. De Cobain was sentenced to twelve months imprisonment with hard labour.
Over a century on, a reappraisal of the case against Edward De Cobain has raised questions over his conviction.
Documents seen by the BBC contain allegations that some individuals were encouraged to make statements against the former MP and one individual was allegedly offered £500.
We contacted Phil De Cobain who is a businessman in North Yorkshire. He is Edward's great-great nephew and insists his ancestor could have been the victim of a conspiracy.
He said that "would be the view of the family".
He added that there was an "awful lot of contributory evidence to suggest that maybe he was framed".
'Set-up'
Historian Nicola Morris who has researched De Cobain's life said the disgraced politician was convinced his enemies had conspired against him.
She told the BBC that many people would have been pleased to see him in prison.
She reveals in the documentary that "it is not beyond the realms of possibility that there was a set up".
Following his conviction in 1893 Edward De Cobain's public life was over and after he was released from prison he lived away from the gaze of publicity until his death in Bangor in 1908.
During his political career he was seen by many observers as a new kind of MP. He was backed by the Orange Order and supported working class unionism.
He had many roles aside from being a politician and was a firebrand, a street preacher and an agitator who was not frightened to take on the establishment.
Academics are divided on his contribution to Irish politics. Historian Eamon Phoenix says De Cobain had ability and amongst Conservatives and Unionists was "a potential leader".
Author and gay rights campaigner Jeff Dudgeon said De Cobain was "an outrageous hypocrite" who achieved little politically.
Nicola Morris said the high point of De Cobains career was his election victory in 1885 and he is famous for being convicted rather than for his political views.
However you judge Edward De Cobain, his life was certainly marked by power, scandal and disgrace. It is an intriguing episode from our Victorian past that has largely been forgotten and a fascinating story hidden in the archives that is worth re-telling.
"A very Victorian sex scandal". BBC Radio Ulster, Sunday 18 September 13:30.