Cold winter inspires NI man's pipe business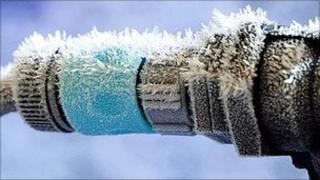 When the frost came, the pipes cracked and the caravan was flooded.
It is a familiar story that was repeated across Northern Ireland last winter, but Jason Paul is determined it will not happen to him again.
In fact the whole incident provided the inspiration behind Mr Paul's business.
He is the man behind Apt Innovations who specialise in products for motor homes and caravans.
And their best seller is the new floë system, which is a pump that enables you to drain down your own caravan when you are putting it away for the winter.
For the uninitiated, when you are using a caravan ideally you hook it up to a water system which pumps water up to your tap and into your bathroom.
The problem comes that when you unhook it the chances are there will still be some water in the pipes that has not yet reached the taps.
And in cold weather that is when disaster can strike.
Mr Paul came up with the invention and refined it on his own motor home along with friends. In order to turn his bright idea into a business he managed to secure Invest NI funding for a patent, and then an American company based in San Diego agreed to make the prototype models.
"They look a lot smarter than my original models, which were just bits of hose pipe," said Mr Paul.
"But the design is very simple, and that is the beauty of the idea."
At the moment most of the business is done through e-commerce and deliveries are dispatched from their Lisburn head office.
But the company have just managed to secure themselves a distributor who supplies to caravanning superstores in England.
Mr Paul's hoping that last winter's disaster could turn into a big success.