Orange Order action over UUP attendance at Kerr funeral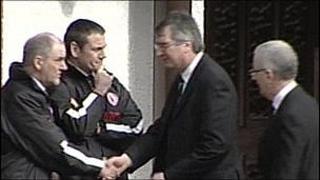 Two Ulster Unionists, including the leader Tom Elliot, are to face disciplinary proceedings by the Orange Order for going to the Catholic funeral of murdered policeman Ronan Kerr.
It follows a formal complaint by a lodge in Sandy Row in Belfast.
The complaint alleges Mr Elliott and Danny Kennedy "have sold their principles for political expediency".
Disciplinary hearings will now be heard, possibly as early as next month.
Along with political leaders from across Ireland, the two men attended Constable Kerr's funeral in April.
But, unlike the other politicians present, both are members of the Orange Order and as such are forbidden from taking part in Catholic Masses.
The BBC reported in June that a lodge in Belfast had written a letter of complaint about the two men to the Grand Lodge.
I understand that the lodge, St Simon's Church Total Abstinence LOL 821 from Sandy Row, has made formal complaints to the county lodges of Mr Elliott and Mr Kennedy in Fermanagh and Armagh.
It is understood the lodge alleges the two men "should have known better."
A UUP spokesperson said the party wanted "to build a society in which people can live together in mutual tolerance and respect".
"In his role as a member of the PSNI, Ronan Kerr was playing his part in working towards that better future and sadly he lost his life in doing so," they said
"As political leaders, it is vital that proper decisions are made for the benefit of not only a party but the wider community and society."
A source close to the men said they had "no regrets" about attending Constable Kerr's funeral, that they did the right thing and they had no hesitation in giving support to the Kerr family.
The source also said they felt "no less orange or unionist" for having attended the funeral and they were annoyed that people could have the kind of mindset displayed by the lodge which made the complaint.