World War II bomb is washed up on beach at Bellerena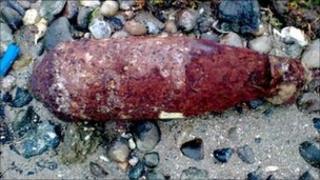 A device, believed to be a World War II bomb, has been discovered washed up on the edge of Lough Foyle.
It was found on the beach at the end of the airfield at the Ulster Gliding Centre near Magilligan in County Londonderry.
A group of three gliding instructors from the British Gliding Association noticed the device while walking in the beauty spot on Tuesday night.
Bomb disposal experts were called to the scene.
Gliding centre representative Jo Myles said: "It was resting on top of the sand, bobbing about in the water.
"The assumption is that it is a World War II bomb, dumped at the end of the war into the Foyle. It looks like a giant bullet."
There have been a series of similar discoveries in Northern Ireland over the years.
A year ago a World War II mortar bomb was uncovered in the roof of a house in Belmont Park in east Belfast.