NI proposals mean Belfast would lose Westminster seat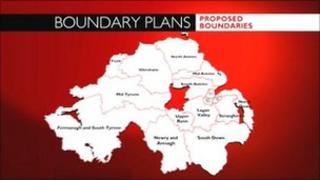 Belfast is to lose one of its four Westminster seats if the provisional recommendations of a new boundary review are adopted.
The west will also lose one of its current constituencies, reducing the number of MPs in NI from 18 to 16.
The review will also apply to Stormont, cutting the number of Assembly members by 12.
It is all part of a UK-wide exercise designed to reduce the number of MPs by 10%.
But since the same boundaries are used for Stormont elections as Westminster ones, its suggestions are vital reading for MLAs as well as MPs.
As expected, Alasdair McDonnell's South Belfast seat will go, divided between expanded Belfast South West and South East seats.
In the west, Mid Ulster, East Londonderry and West Tyrone are reorganised into two new seats called Glenshane and Mid Tyrone.
Other changes include the Ards Peninsula shifting from Strangford to North Down and much of Ballymena - for so long a Paisley stronghold - moving from North Antrim to a new Mid Antrim seat.
'Shredded'
The politicians and the voters will now get a chance to tell the boundary commissioners what they think of their new map as the ideas go out to a 12-week consultation.
South Belfast MP Alasdair McDonnell said his seat had been "shredded" and that Belfast would lose some of its influence by being reduced to three parliamentary seats.
"From a status, from an authority and from a clout in political terms Belfast is now a smaller place as a result of these boundary changes.
Sinn Fein MP for West Tyrone said the party would use this period for "look at and study" the proposals.
"We will have to examine all of this. The consultation period has been laid out that includes the public hearings and we will avail of all that," he added.
The Alliance Party's only MP, Naomi Long will see her East Belfast constituency altered considerably but she said it could help her retain the seat.
"Some of the areas which would be coming back into East Belfast would be very good areas for us in the previous assembly elections," said Mrs Long.
"They moved out to South Belfast just before the last Westminster elections."
The publication of the commission's proposals triggers a 12-week public consultation period which will include three public hearings.