GB students charged more to cover NI fees shortfall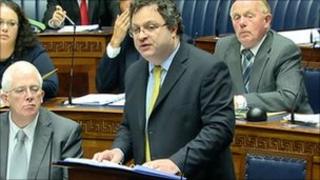 NI's universities and colleges will be allowed to charge English, Scottish and Welsh students more to cover the shortfall of freezing local fees.
It is hoped the move will help plug a £22m funding gap in the Department of Employment and Learning's budget.
Employment and Learning Minister Stephen Farry also said NI students opting to study in the rest of the UK will be helped with their fees.
They will be entitled to a loan of up to £9,000 to cover fees.
Last week, the executive agreed that tuition fees remain at the same level - about £3,500 - and a funding package has been put in place to offset the shortfall.
Mr Farry admitted the fees issue was "hugely challenging" and told the assembly that his department needs to find £22m to plug the funding gap.
He intends to charge students from the rest of the UK more if they wish to come to Northern Ireland to study.
"These decisions are a clear indication that the executive is working for Northern Ireland," he said.
"For our future students, for our graduates and indeed for their families and the economy.
"A considerable element of this will be financed by charging higher fees to students from England, Scotland and Wales."
That should raise around £5m.
Mr Farry will find £5m from internal savings in his department and the other £12m will come from the savings on the notional loan subsidy, that is savings on the subsidy that the department would have had to pay, had fees increased.
For those wishing to study in Great Britain, who may face fees of up to £9,000 a year, help will be available.
"The decision by the executive means I can confirm that we will continue to provide tuition fee loans for Northern Ireland students who attend university in any part of the UK," said the minister.
"These loans will be available to cover the cost up to a maximum fee of £9,000.
"I am sure that this will allay the concerns of many young people hoping to enter higher education in September 2012."