Firefighters climb Obel Tower in memory of 9/11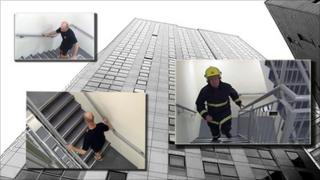 More than 100 firefighters have climbed the highest building in Belfast 343 times on Saturday in memory of their colleagues who died in the 9/11 attacks.
There are 550 steps up to the top floor of the Obel tower.
Many of the firemen did it with heavy breathing apparatus.
Watch commander Gary Patterson said the proceeds raised from it will go towards building a school for underprivileged children in Brazil.
"Every time we climbed those stairs we were aware of the efforts and the sacrifice that those firefighters made and indeed the firefighters around the world are continually willing to make on a day to day basis," he said.