Pat Buckley to enter talks over 'squatters rights' case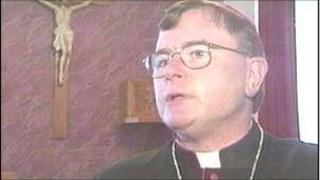 A Catholic priest is to enter into mediation in a bid to resolve his legal bid for "squatters rights" to the home he has lived in since his suspension from the priesthood.
Pat Buckley has been resident in the property in Larne for 25 years.
He is involved in a legal dispute with the diocese of Down and Connor, who own the house.
The cleric agreed on Friday at the High Court to hold talks aimed at avoiding a full trial in the case.
A judge told him he would direct joint consultations if the mediation plans are not in place by next month.
Pat Buckley is seeking adverse possession of the house, where members of his Oratory congregation gather to worship.
He has brought a case against the Catholic Diocese of Down and Connor, as the registered owners of the property, where he also conducts marriages, and retired Bishop Patrick Walsh.
Pat Buckley, who is representing himself in the proceedings, said he wanted his name on the deeds so he can carry out £70,000 worth of repairs needed to the property.
An engineer's report is to be carried out on the property as part of the case.
After Mr Justice Deeny put the potential remedy to him, Pat Buckley replied: "I am open to the kind of discussion you are referring to."
The case is to be reviewed again on 21 October.
Pat Buckley hit the headlines over his own civil partnership last year.
Outside the court he confirmed he was willing to mediate.
He added: "I do believe Christians shouldn't take each other before the civil courts if it is possible to take another way forward and sort it out among themselves.
"I was left with no option but to take it (the case) because the house needs to be repaired, it needs about £70,000 spent on it, and the only way I can do that is to get my name on the deeds.
"But I'm willing to talk," he added.