Eel of approval: little fish is EU treasure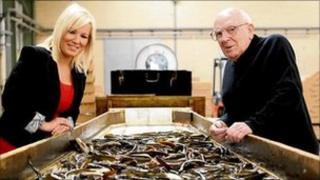 It's official - the eels of Northern Ireland's Lough Neagh are up there with champagne, Parma ham and Greek feta cheese.
The European Union has recognised the regional importance of the eel and admitted the small fish to an exclusive club.
After a three-year wait, it now has protected geographical indication status - a first for any product in Northern Ireland.
The Bramley apple and Comber potato are waiting in the wings.
Surprisingly, nearly all of the eels from Lough Neagh are sold outside Ireland.
Some make their way to Billingsgate in London. But the majority go to the Netherlands and Northern Germany, where they are smoked... a great delicacy.
The EU scheme protects food names on a geographical or traditional recipe basis.
It means a named food or drink registered at a European level will be given legal protection against imitation throughout the EU.
Northern Ireland Minister for Agriculture Michelle O'Neill said it was a real achievement for the Lough Neagh Fishermen's Co-operative Society.
"Lough Neagh eels are one of many high-quality foods that we produce here and it is only right that they are recognised on the international stage. I would encourage other producers to work with my department, who can help them to develop applications under the protected food names scheme," she said.
"With both Armagh Bramley apples and new season Comber potatoes awaiting European recognition, I hope that Lough Neagh eels are the first of many local products to gain protected status. I share the co-operative society's excitement at this very great accomplishment," she said.
Father Oliver Kennedy of the Lough Neagh Fishermen's Cooperative said it was a true reward for the fishermen who continue to fish using methods passed down through the generations.
"Gaining the PGI will help us to continue to sell Lough Neagh Eels in the European market and will hopefully also help to raise the profile of the industry," he said.
In 2010 the catch of eels that went through the Lough Neagh Fishery was over 400 tonnes.