Irish government 'as much to blame' for abuse as church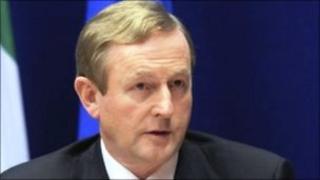 A Fermanagh priest has claimed Irish politicians, including Enda Kenny, are as "much to blame" for clerical abuse as the Catholic Church.
In a letter to the Irish Times Fr Joe McVeigh criticised comments made by the Irish prime minister (taoiseach) after the publication of the Cloyne Report.
He accused Mr Kenny of "playing politics".
"Mr Kenny took the opportunity to win himself some more popular support," he wrote.
"The Irish politicians in government and in opposition, including Mr Kenny, are as much to blame for the abuse and neglect of children in the State as is the Church.
"It is easy to blame the Church and to focus on the Pope and the Vatican when it suits. It is a very popular thing to do right now."
Fr McVeigh said that while it was necessary to hold the Church to account for its failure to protect children in its care, it was important to look at these failures in a "historical context".
"When Ireland was partitioned the Church took on a hugely influential role in all aspects of life in the south...and was allowed to do so by the new Free State government."
'Grandstanding'
Enda Kenny launched an unprecedented attack on the Catholic Church in July during a speech in Irish parliament.
He said the Cloyne Report, into how allegations of sex abuse by priests in Cork had been covered up, showed change was urgently needed.
Mr Kenny said the historic relationship between Church and state in Ireland could not be the same again.
He added that the report exposed the elitism, dysfunction, disconnection, and narcissism that dominated the Vatican.
"The rape and torture of children were downplayed or 'managed' to uphold instead the primacy of the institution, its power, standing and 'reputation'," the taoiseach said.
Mr Kenny said he received numerous letters from priests supporting his statement.
However, Fr McVeigh said he was not one of them and accused Mr Kenny of "grandstanding".
The priest said what happened in Cloyne was the responsibility of the former bishop John Magee and monsignor Denis O'Callaghan and "cannot be blamed on the Vatican".
A spokeswoman for Mr Kenny said it was not the practice of the taoiseach to comment on individual opinions.