Suspended priest Fr Kennedy 'in personal crisis'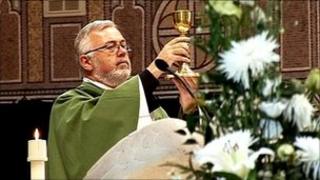 A senior Belfast Catholic priest who has stood down from his post, said he had never abused children.
Father Hugh Kennedy, the administrator of St Peter's Cathedral in west Belfast, stood down after talking to Bishop Noel Treanor in July.
Fr Kennedy, who is on sick leave, stated categorically he had never violated or molested a child.
The 55-year-old cleric said he was passing through a personal crisis "with which I have to deal".
In a statement on Monday, Down and Connor Diocese confirmed that Fr Kennedy's decision to cease working at the cathedral did not relate to the cathedral or any member of Schola Cantorum, the boys' choir which he founded.
"I can categorically state that I have never violated or molested a child placed in my trust, either in a private or priestly capacity," he said.
"In order to reassure the parents of the children associated with Schola Cantorum, I am personally willing to engage immediately with as many of them as possible, to satisfy them of my bona fides.
"I am passing through a personal crisis with which I have to deal. I request space in which to do this.
'Information not shared'
"I repeat my readiness to cooperate with church and state authorities. I ask for people of goodwill to pray for me in my hour of crisis."
In an earlier statement he said: "Bishop Treanor requested me to stand aside from all my priestly/cathedral duties on foot of information he had received.
"This information was not shared with me. Following from this, I have ceased working as a priest at the cathedral.
"I have no hesitation in co-operating with church/state authorities in light of this development."
A diocesan Down and Connor statement said "information" was received in mid-July citing Fr Kennedy.
It was forwarded to the police and social services who were seeking to clarify its content.
Fr Kennedy has been on sick leave since early July - before the information was made known to the diocese, according to the statement.
He agreed to step aside from his duties while the information was clarified.
The Schola Cantorum choir, founded in 2008 and made up of 45 boys, has performed in various parts of Europe, including a Papal mass in the Vatican and in front of the Irish President Mary McAleese in Dublin.
It featured in a BBC television documentary and sang at Westminster Cathedral in London this summer.
Fr Kennedy was ordained a priest in 1981 when he was studying at the Irish College in Rome. He was appointed administrator at St Peter's in 2006.