Vatican 'missing the point' over Cloyne report response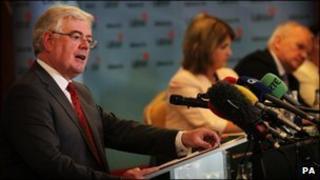 Ireland's Minister for Foreign Affairs, Eamon Gilmore, has accused the Vatican of "missing the point" in its response to the Cloyne report.
The Holy See rejected claims it frustrated the inquiry into the handling of clerical abuse allegations in the County Cork diocese, at the weekend.
It described as "unfounded" an accusation by the Irish Republic's Prime Minister Enda Kenny that the Vatican interfered with such investigations as recently as three years ago.
Mr Gilmore said the real issue was that the Catholic Church did not deal effectively with abusing priests.
Earlier, Bishop Noel Treanor said Mr Kenny should explain his claim that the Vatican interfered in the affairs of the Irish state.
The Vatican has rejected Mr Kenny's claim it sabotaged efforts to report child-molesting priests to police.
His remarks followed publication of the Cloyne report .
Bishop Treanor said the statement had now "gone global" and had even been cited by the Chinese government.
He said China had repeated Mr Kenny's claim "in the very delicate and important area of religious freedom".
In his speech to parliament in July, Mr Kenny accused the church of putting its reputation ahead of clerical sexual abuse victims.
Dr Treanor, who is bishop of Down and Connor, said the Vatican's response at the weekend to the statement had been given in language that was very clear and expressed its horror at "the crime and sin of child sexual abuse".
'Anger and frustration'
Speaking on the BBC's Good Morning Ulster programme, he said: "Anybody who reads this document will have to say that it is a very full and honest and indeed a response characterised by humility and modesty."
Bishop Treanor reiterated that the taoiseach "had caught very accurately the disappointment, anger and frustration" of the Irish people.
"I also believe that in the rest of his statement he should have been much more moderated and much more differentiated in his assertions," he said.
"I believe that... the taoiseach must now explain what he means by the attempt to interfere in the affairs of the Irish Republic.
"The taoiseach's office said the taoiseach was not referring to any specific event. That's on record. I believe that statement requires elucidation and explanation."
Bishop Treanor said the statement was made by a head of state "pertaining to or relating to relations between two sovereign states, namely the Republic of Ireland and the Vatican state".
"This statement of Enda Kenny's was not only a statement in the Dail, it is also a statement that has gone global," he said.
"So I believe the taoiseach owes an explanation to the citizens of the Irish Republic and indeed to the international community."