Police Ombudsman is to quit job earlier than planned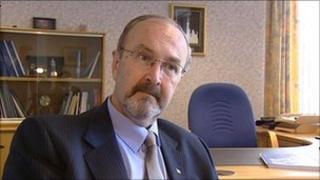 The Police Ombudsman, Al Hutchinson is to quit his job earlier than planned following the publication of a highly critical report.
The report, published on Monday, found the independence of the ombudsman's office had been lowered by its handling of historical cases.
It also highlighted concerns involving the handling of sensitive material and divisions within senior management.
Mr Hutchinson was due to retire in December 2012.
"I acknowledge that personal attacks on me, criticisms, are becoming dysfunctional in their impact in the office and I have reflected on that and I have taken a decision," he said.
The details will be announced at a justice committee meeting on Thursday.
Al Hutchinson commissioned the Criminal Justice Inspectorate report after the chief executive of his office resigned and criticised how business was done.
The justice minister said the report showed "a clear need for action".
David Ford said he wanted to see the issues raised in the report addressed.
'Lack of confidence'
Dr Michael Maguire, chief inspector of criminal justice in Northern Ireland, said the report's findings raised significant concerns about historical cases.
"Significant concerns were identified around how sensitive, complex and high-profile historical cases are currently investigated and handled," he said.
"The inspectorate believes that the ways in which the Police Ombudsman's office has dealt with these cases has served to undermine rather than enhance its decision-making capacity.
"As a consequence of these contributory factors, its operational independence has been lowered."
Dr Maguire also said that non-governmental organisations, families, their legal representatives and the PSNI had "heavily influenced" reports.
He said this led to a "lack of confidence in how the investigative processes are managed".
The handling and use of sensitive material was also identified as a matter of concern and there was evidence of "serious divisions" within the senior management.
"This split created a dysfunctional environment that has impacted on the office's day-to-day functions and the morale and attitude of staff," Dr Maguire said.
"It has also led to a fractured approach to governance and decision-making, particularly around the production of reports."
'Fiercely independent'
In response, the chief inspector said he had made six recommendations which included the suspension of historical case investigations.
He said this was until the strategic plan for the Historical Investigations Directorate was adequately resourced and became fully operational.
"It is an urgent requirement that these matters are addressed in response to this inspection report," he added.
Mr Hutchinson said he welcomed the report's findings and would look at how it reviews historic investigations.
"I have now moved to address those areas of concern identified by the inspectorate in relation to the historical work undertaken by my office," he said.
Referring to the reported division within his senior management, he said some were "fiercely independent of mind".
"Some of them have expressed concerns that our processes are still not as good as they could be. We are now working to improve on these processes," he said.
He has agreed not to commence any new historical investigations until his office receives additional funding.
The justice minister, Mr Ford, said: "People need to be confident that the Office of the Police Ombudsman is able to hold the police to account in an impartial, independent and robust way.
"This report, and the recent report by Tony McCusker, highlight a clear need for action to ensure the Office of the Police Ombudsman can command public confidence in all areas.
"I am committed to ensuring that the issues that need to be addressed are examined and resolved speedily."
Patricia MacBride of the Commission for Victims and Survivors said she was worried about the suspension of historical investigations by the ombudsman's office.
"On the face of it, cases where investigations have already taken place and where reports have not yet been published, will sit in limbo until a review is conducted of the most effective way of managing those investigation reports.
"In some cases, families have waited years and are being told they must wait again," she said.
Resignation
This report was commissioned by Mr Hutchinson in April following the resignation of his chief executive, Sam Pollock.
Mr Pollock's claims included an allegation that the operational independence of the office from the PSNI had been lowered.
Mr Hutchinson had rejected that claim.
Sinn Fein's Gerry Kelly said the ombudsman should resign without delay.
"This is the third critical report into the ombudsman's office and it is an indictment of the leadership that Al Hutchinson has shown," Mr Kelly said.
"Sinn Fein believe in the ombudsman's office and that it is a crucial mechanism to make sure we have accountable policing.
"However with the independence of the office being yet again called into question the credibility of that office is at rock bottom."
The chair of the assembly's justice committee, Paul Givan, said: "The real issue that needs to be addressed in light of this report are the responsibilities and remit of the ombudsman's office.
"The office was established in order to provide scrutiny and accountability of policing here and this should be the role fulfilled by the office; not carrying out a review of historical events."