Man charged in Belfast with raping girl met on internet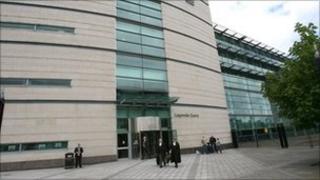 A man has appeared in court charged with the rape of a child he met on an internet chatroom and other sexual offences against her.
Phillip Shorten, 49, from Flagstaff Green, Gosport, Hampshire, allegedly met the 15-year-old girl on a chatroom.
The prosecution alleges he travelled to Belfast four times to engage in sexual activity with her. The alleged rape happened in February.
Mr Shorten denies the charges. Bail was refused and he was remanded in custody.
The charges, allegedly committed between July 2010 and February 2011, include rape, making and possessing an indecent photograph of a child, and arranging the involvement of a child in pornography.
He is further accused of setting up an online account to involve a child in sexual activity, intentional sexual touching of a girl aged under 16, and incitement to engage in sexual activity.
Other counts against him involve meeting a child following sexual grooming and intentionally causing her to look at a sexual image.
Belfast Magistrates' Court heard Mr Shorten met the girl last year through an online messaging service.
Investigation
The court heard she claimed that after being informed detectives had her chat logs, Mr Shorten asked her to say she told him she was 18, and that he believed any references to a 15-year-old schoolgirl were purely role-play.
Opposing bail, the officer said the accused was well aware of her real age and posed a risk of re-offending.
"From the evidence available we believe the defendant systematically groomed this child online," he said.
He claimed Mr Shorten had started out with "normal chit-chat" before "pushing the boundaries" on more sexualised conversations.
"There were pornographic links for the child to watch and describe to him as she was watching," he said.
"In the video interview she gave to police, she talked about actually seeing and describes another male who she describes as an old man with a white beard."
Communication between the pair ended following the alleged rape of the girl in February, according to the officer.
An online paedophile investigation team from Hampshire Police are examining computers seized last week.
Risk
But Mr Shorten has claimed other equipment was either lost, stolen or thrown out.
A defence solicitor said the accused denied the offences and had told police he believed the girl was over 18.
He added that Mr Shorten had travelled to Northern Ireland and the Irish Republic for business interests, with any hotel visits at the end of these trips.
Bail was refused, despite a defence submission that Mr Shorten could be released but banned from any internet access.
Deputy District Judge Philip Mateer ruled there was a risk of further offences.
He said that, according to the prosecution, Mr Shorten had shown "deep-seated tendencies" because of the length of time over which the alleged offences were committed.
The accused was remanded in custody to appear again by video-link next month.