Bangor Castle recreated in sugar cubes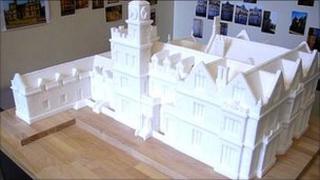 Sometimes paint and canvases are just not enough for an artist.
Bangor native Brendan Jamison has already gained world-wide attention for his work in various unusual media and is now bringing his work closer to home.
Last year he was commissioned to create the iconic Tate Modern building in London and made it to scale using exactly 71,908 sugar cubes.
This time it is the turn of Bangor Castle Town Hall which has received this unique sculpting treatment.
Over the last six months, Brendan has been carefully crafting each detail to perfection using more than 48,000 cubes.
Even the model's distinctive clock tower points to 18:52, a reference to the year the mansion house was built.
The sculpture displays the building's Elizabethan-Jacobean revival style which in reality has 35 bedrooms and a huge saloon for musical recitals.
Challenges
Brendan said capturing such a precise representation caused some difficulty.
"The Elizabethan-revival style of 1852 features many intricate architectural details such as balcony pillars, strap work and pinnacles, all of which present challenges to replicate in sugar," he said.
"However, with intense concentration and a focused carving technique, all of the ornate elements were sculpted accurately."
Miriam Crozier, cultural services and marketing officer for the council, said working with Brendan had "been a very special privilege".
"As the light glints on the sugar of the sculpture, it casts Bangor Town Hall in a magical, fairytale light," she added.
The commission is part of an ongoing art project, Art on the Seafront, and is on display in the Long Gallery until mid-September.