Shock at inclusion of Fr Brendan Smyth in prayer book for the dead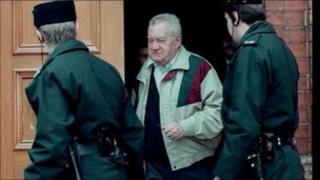 The paedophile priest Fr Brendan Smyth's name has appeared in a book of prayers for the dead at a church in Newcastle.
The Belfast cleric committed dozens of offences against children over a 40-year period and died in prison in the Republic of Ireland in 1997.
He was at the centre of one of the first paedophile priest scandals to rock the Catholic Church on the island.
It is understood his name was added shortly after he died.
Spokesman for the diocese of Down and Connor, Fr Eugene O'Hagan said he was aware it was a "controversial issue".
"We can't ignore the fact that Fr Brendan Smyth in his lifetime did the most awful things and was brought to account by the civil authorities for that, rightly so," he said.
Disgraced
"It is of course in the very nature and essence of the church, we pray for the forgiveness of sinners."
Fr O'Hagan said the disgraced priest's name had not been added to the book by a member of the clergy.
"It certainly wasn't placed on the book by the voluntary initiative of either the current parish priest or his predecessor," he said.
"This book was established in 1997, around the time Fr Brendan Smyth died.
"It is similar to the many ways the dead are remember in various parishes, although there is no one size fits all or one way of doing it across parishes in our own dioceses.
"As far as I am led to believe the name filtered in through from the grassroots from someone living in the area or visiting in the area and it ended up in the book."
Fr O'Hagan said there was no obligation on parishioners to pray for Fr Smyth.
"No-one is forced to pray for anyone," he said.
"However it is in the nature of the church's ministry and mission to pray for the living and for the dead. If a person does not want to pray for him or any other individual that is a private matter."