Consumer Council asks OFT to probe NI car insurance market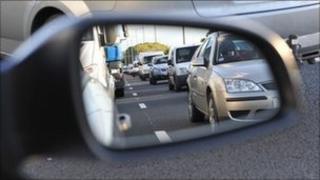 The Consumer Council has asked the Office of Fair Trading (OFT) to examine the car insurance market in NI.
Premiums in Northern Ireland remain much higher than elsewhere in the UK.
Research by the consumer group found that premiums were, on average, 84% higher. The average price for car insurance in NI is now more than £920.
The council had previously asked Stormont to investigate, but has now gone to the Office of Fair Trading.
The Consumer Council said they had carried out research which showed that premiums had risen by over 70% from two years ago.
It said the cost of car insurance was a "big issue" for people in NI.
The consumer group said action was needed so motorists were not forced out of their cars or to drive illegally without insurance.
Higher costs
It said there was a strong reliance on motor vehicles in NI, with over 80% of all journeys between 2008 and 2010, made using a car.
NI motorists also face higher petrol and diesel costs than the rest of the UK.
The organisation said "practical action" can and must be taken to lower premiums for consumers in Northern Ireland.
The Consumer Council wants the Department of Justice and the justice committee at Stormont to examine the costs associated with claims, such as compensation, legal/administrative fees and claims management referrals.
In a statement, the Association of British Insurers said the level of damages awarded for personal injury claims was higher in Northern Ireland than in England and Wales.
Capped
It said a minor whiplash claim in England and Wales was generally between £500 and £2,000 while in Northern Ireland it could be up to £8,000.
The statement also highlighted that property damage-only claims are dealt with in the county courts in Northern Ireland, a process that was much more expensive than the small claims procedure used in England and Wales.
The small claims limit is capped at £2,000 in NI, compared to £5,000 in England.
This means low value claims which could easily be handled in the small claims court are dealt with in the more expensive county court.
The OFT enforces consumer law and has wide-ranging powers of investigation. The move by the Consumer Council could lead to an OFT investigation in this area, however, it will not do so automatically as it is not a so-called super complaint.
The council is also launching a petition for consumers on its website and is inviting members of the public to detail their experiences of getting car insurance in Northern Ireland.
The Consumer Council has also been working with the Association of British Insurers (ABI) and British Insurance Brokers Association (BIBA) to ensure consumers are doing all they can themselves to lower their insurance costs.
It has produced a leaflet Driving Down the Cost of Car Insurance.