IRA 'aided' anti-apartheid bombing - Kader Asmal memoirs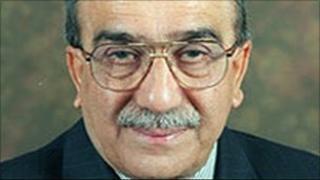 The IRA helped carry out a major bomb attack against the South African apartheid government, according to a former ANC cabinet minister.
In posthumous memoirs, Kader Asmal, also claimed Gerry Adams was approached to provide IRA men to train ANC members in Ireland.
Professor Asmal, who was a founder of the Irish Anti-Apartheid Movement, died in June aged 76.
Sinn Fein has so far not responded to the claims.
A law professor at Trinity College Dublin for 27 years, Professor Asmal was a founder member of the Irish Anti-Apartheid Movement.
He returned to South Africa in 1990, and became minister of education after elections in 1999.
Delicate task
In the book, Politics in my Blood, he recounts how he was approached in the late 1970s to help arrange training in Ireland for the military wing of the ANC known as MK.
"I was very keen, but it was a delicate task because it would of necessity involve the IRA," he said.
"None of us wished to place the ANC office in London in jeopardy or fuel the allegations of connivance between the ANC and IRA.
"I went to see the general secretary of the Communist Party of Ireland, Michael O'Riordan, who was a man of great integrity and whom I trusted to keep a secret.
"He in turn contacted Gerry Adams of Sinn Fein and it was arranged that two military experts would come to Dublin to meet two MK personnel and take them to a safe place for two weeks of intensive training."
Professor Asmal also claimed that the IRA had a significant role in an attack on a major oil refinery in South Africa in June 1980.
He recalled that at the time of the attack, he was "a strong believer in Irish independence and in a united Ireland".
However, he added that he never supported the IRA.