Tributes to Adrian McFarland killed in crash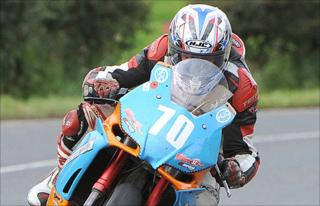 Tributes have been paid to a County Tyrone motorcyclist killed in a crash in the Czech Republic.
Adrian McFarland, 41, from Plumbridge near Omagh died after he crashed during a race near the town of Hradec Kralove on Saturday.
He had been a regular competitor on the Isle of Man, achieving four top 10 finishes in the Manx Grand Prix races.
Mark McCausland who used to sponsor Adrian said he was always proud to have the motorcyclist riding his bikes.
"He was a safe driver and in all the times that he rode for me, he has only fallen off once," he said.
"What can you say at a time like this? I just was proud to know him and was proud every time that he rode my bikes. He was a nice guy."
SDLP West Tyrone MLA Joe Byrne said Mr McFarland's death was a shock.
"I would like to express my sympathies and those of the people I represent to not only Mr McFarland's family and close friends but also the local motorbike racing fraternity, a very close knit community," he said.
"The motorbike community has had to deal with many tragedies yet this does not make it any easier to cope with.
"This tragedy is also tinged with further sadness as it came on the same day a man was killed in a road traffic collision in Clogher. This has been a difficult weekend for the people of Tyrone."