Michael O Muircheartaigh will not run for presidency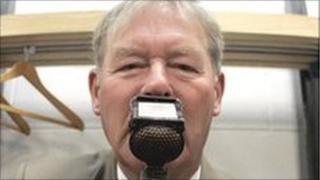 Former RTE sports broadcaster Micheal O Muircheartaigh has announced that he will not be a candidate in the upcoming Irish presidential election.
In a statement, the 81-year-old said he was "honoured and humbled", but wanted to end speculation.
"I wish to confirm that I do not intend to contest the forthcoming election," he added.
Mr O Muircheartaigh had previously said that if he was to run, it would be as an Independent.
He thanked supporters "for their kind offers".
So far the only certain candidates for election in October are Fine Gael's Gay Mitchell, the Labour Party's Michael D Higgins, and the Independents Sean Gallagher and Mary Davis.
Both Fianna Fail and Sinn Fein have yet to confirm whether or not they will run a candidate.