Deputy to Bishop John Magee 'should have resigned'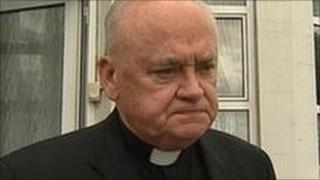 The deputy to Bishop John Magee has said he should have resigned as child protection delegate in the Cloyne diocese rather than continue in a job where he disagreed with the child protection guidelines.
Monsignor Denis O'Callaghan was criticised in the Cloyne Report for his role in failing to respond appropriately to abuse allegations.
He had responsibility for child safeguarding in the diocese.
In a letter published in The Irish Catholic newspaper, he said his main focus was always on the pastoral care of "everyone suffering the consequences of sex abuse, primarily the victim but also the transgressor".
The Murphy Report into the diocese's handling of child abuse was published in July.
It examined abuse in the diocese which covers mid, east and north Cork, up until 2009.
It found that Dr Magee, who was Bishop of Cloyne from 1987 to 2009, falsely told the government and the Irish Republic's health service that his diocese was reporting all abuse allegations to authorities.
It also found that the bishop deliberately misled another inquiry and his own advisors by creating two different accounts of a meeting with a priest suspected of abusing a child, one for the Vatican and the other for diocesan files.
In his letter to The Irish Catholic newspaper, Monsignor O'Callaghan said that Judge Yvonne Murphy was made "aware of the Cloyne commitment to pastoral care but the commission focussed on its remit of reporting on whether or not procedures were fulfilled".
He said that for "most of those priests accused in Cloyne the complaints alleged incidents dating back over 30 or 40 years".
"Of those priests some would now be terminally ill while others would be under constant medical care," he said.
"The literal guidelines did not allow for any discretion to bishops and to their delegates.
"Reporting was to be made immediately. No exception was to be made even when an accused priest was on his death-bed."
In one case described in the Murphy report, Monsignor O'Callaghan, was said to have withheld the identity of a perpetrator from the authorities and attempted to have an Irish police officer investigate the case.
The police officer was found to have correctly disregarded the request.
In July, Monsignor O'Callaghan said he was sorry that in responding to allegations of abuse he had sometimes become "emotionally and pastorally drawn to the plight of the accused priest".
Earlier this week, The Association for Catholic Priests (ACP) criticised Bishop John Magee's first interview since the publication of the report into abuse as "inadequate".
On Monday, Dr Magee said he felt "horrified and ashamed" by the findings of the report.
The ACP welcomed the fact he had spoken but said it was "not enough".