Electricity price rise 'massive blow to vulnerable'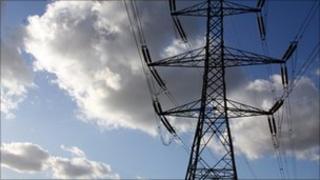 A hike in the price of electricity in Northern Ireland will create "real problems" for many elderly and vulnerable people, the Housing Executive has warned.
It was responding to news that Power NI, formerly known as NIE Energy, intends to increase the cost of electricity by 18.6% from 1 October.
It means the average annual household electricity bill will rise by over £90.
The Northern Ireland Consumer Council said it was a "massive blow".
A Housing Executive spokesman said the price rise was being introduced in winter, when people have no option but to use more electricity.
"If there is a repeat of last year's harsh winter, the Housing Executive would have real concerns for the welfare of many of our tenants," a spokesperson said.
"Last winter demonstrated that many elderly and vulnerable people could not afford to heat their homes, both those with electric heating and those who, after paying other household bills, had insufficient funds to buy other fuels.
"This resulted in substantial damage to homes and many households being left without heating."
The spokesman said the price rise would have a major impact on fuel poverty.
Power companies have announced a rise in tariffs across the UK and the Republic, blaming the increasing costs of producing electricity.
Stephen McCully, managing director of Power NI, said the price hike was "unwelcome but unavoidable". He said he was "very conscious that household budgets were stretched".
"Our last price increase was three years ago and since then we've managed to either freeze or cut prices, so I'm very disappointed to have to make this announcement.
"However, we have been faced with steadily rising wholesale gas and oil prices over the last two years and we can't hold our prices any longer."
Utility Regulator Shane Lynch said the Power NI proposal to raise prices had been scrutinised.
"In fact, they (Power NI) were seeking an even bigger increase. We are assured that 18.6% is unavoidable. It has been three years since there was an increase in price before. This is not particular to NI."
Mr Lynch added: "We exist to protect consumers and we know that these are very difficult times for households across Northern Ireland.
"We regret having to approve price rises and we will act as soon as possible, should wholesale energy costs decrease, to ensure that this reduction is reflected in consumer bills."
Antoinette McKeown, chief executive of the Consumer Council, said consumers should consider switching power providers.
"The reality is that by switching, you encourage better competition, you incentivise the energy providers to do a better customer service and you can actually save money, up to 17% for some consumers at the moment," she said.
The council is also calling on the Northern Ireland Executive to use its energy purchasing power to negotiate lower prices for consumers.
A spokesman for rival NI electricity supplier, Airtricity, said it had little option but to track the price increase. However, it said it would stand by its commitment to customers to offer significant discounts of up to 14% against the new Power NI regulated standard prices.
Airtricity Chief Executive Kevin Greenhorn said: "We are committed to retaining significant discounts for our customers and to offering real choice and substantial savings on electricity bills.
"The need for increased prices is due to the large increase in wholesale prices driven by the global energy markets."
The Northern Ireland Independent Retail Trade Association (NIRTA) said the timing of the price increase "could not be worse".
NIRTA chief executive Glyn Roberts said: "For small traders this hike is a double blow.
"Hard working families will face an even greater impact on their disposable incomes and could well reduce spending with local retailers as a result."