£75,000 of oxycodone seized in Belfast and Comber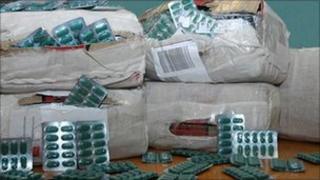 Prescription drugs with an estimated value of £75,000 have been seized in south Belfast and Comber, County Down.
Large amounts of the drug oxycodone were recovered by the Department of Health Medicines Regulatory Group, police and the UK Border Agency (UKBA).
The opiate painkiller, sometimes called "hillbilly heroin", has effects, addiction, and chemical composition extremely similar to heroin.
A 31-year-old Belfast man was arrested over the find
He was questioned over illegal importing activity and a report on him was sent to the Public Prosecution Service.
The searches for the drugs took place last Friday.
Health Minister Edwin Poots said he was not aware that the drug had been seized in Northern Ireland before.
Heroin alternative
"They've been imported from the Indian sub-continent and ultimately the suspicion will be that these are not going to be used for medicinal purposes," he said.
"The danger is that people actually break these drugs up and use them as an alternative to heroin because they do contain opiate.
"We're aware of this type of activity, so ultimately they can be very dangerous drugs if they are injected directly into the body."
Mr Poots said he had been made aware that there was "a lot of difficulty" getting good quality heroin in Northern Ireland at the moment.
"So people are engaging more and more in these type of activities, and this is called hillbilly heroin or poor man's heroin and ultimately we need to deal with this particular challenge as well as dealing with the heroin challenge," he said.
"These people are bringing misery to the wider public in Northern Ireland and the more we can reduce the public reliance on illegal drugs, then we'll have a better country."
The health minister said there were agencies who watched out for illegal medicines coming into the country and intelligence that is passed on to the authorities.
"Ultimately I would ask others who might know where this type of activity is taking place to pass the information on and we will act on it to drive these type of people out of our system."
While oxycodone can be safely used under prescription, its misuse has been linked to hundreds of deaths in America.
It became known in the US as "hillbilly heroin" or "poor man's heroin" because of its abuse in rural areas.
Class A drug
Oxycodone is a synthetic form of morphine, but is twice as strong, and is often prescribed to cancer sufferers.
In the UK it is classified as a Class A drug under the Misuse of Drugs act.
Peter Moore of the Department of Health Medicines Regulatory Group said illegal and dangerous prescription-only medicines had been prevented from reaching the streets.
"It is vital that we get the message across that taking unlicensed medicines from an unknown source can be dangerous," he said.
"These types of drugs being sold, usually online, have undergone no quality control and there can be no guarantee about their safety.
"Misuse of prescription drugs can lead to abuse, addiction and other serious problems."