Kusadasi in shock at murder of two County Down women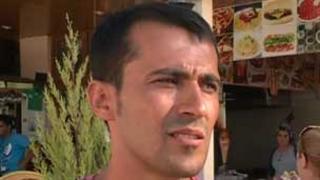 Kusadasi can feel like an Irish village in forty degree heat.
Pubs and restaurants display pictures of Dublin and Belfast, giant shamrocks and GAA tops.
People do all they can to keep tourists coming back.
And that's what Marion and Shannon Graham did time after time.
They loved Kusadasi's sun-splashed beaches.
Staff in beach-front restaurants got to know them as they spent weeks at a time in the resort.
Fifteen-year-old Shannon was often seen with her boyfriend who is now being held by Turkish police on suspicion of murdering Marion Graham and Kathy Dinsmore.
Restaurant owner Hassan Karadaj got a shock when he saw pictures of the victims on the front page of a newspaper.
"They were nice people, lovely people. I'm just so sad," he said, shaking his head.
But he added: "Seventy million people live in Turkey - just one did this."
Tourists on the beaches and in the bars have been talking about the terrible events .
Debbie Eadie from Bangor said: "It's so surprising that something like this would happen here, because normally people couldn't do enough for you."
She spoke to me as she was eating an Irish breakfast with her husband David, overlooking the Aegean Sea.
David said: "I've been coming to Turkey for nine years and it's been great. This has been a terrible tragedy, but it wouldn't put me off coming back."
Dermot Fox from Westmeath said: "I've had no difficulty here. People have acted with extreme kindness, in fact."
The economy here is dependent on tourists and Irish visitors in particular.
Local people say they've been worried that the international media coverage of the murders will make people go somewhere else.
But they want to stress that the area is very safe.
It seems no-one can remember a crime so savage as the murders of Marion Graham and Kathy Dinsmore.