Priests criticise Bishop Magee comments as 'inadequate'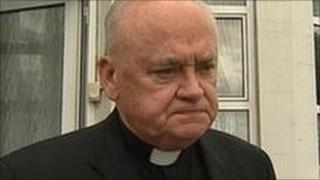 The Association for Catholic Priests (ACP) has criticised Bishop John Magee's first interview since the publication of the report into abuse as "inadequate".
The Murphy Report into the diocese's handling of child abuse was published in July.
On Monday Dr Magee said he felt "horrified and ashamed" by the findings of the report.
The ACP welcomed the fact he had spoken but said it was "not enough".
Speaking on behalf of the association Fr Tony Flannery said five minutes on the doorstep was not adequate given the questions raised by the Murphy report.
"While we welcome his interview we don't feel it's enough. There are many questions which are left which need to be addressed.
"We also feel that the language he used does not connect sufficiently with those involved - it's just not clear enough".
The Murphy report examined abuse in the diocese which covers mid, east and north Cork, up until 2009.
Full responsibility
It found that Dr Magee, who was Bishop of Cloyne from 1987 to 2009, falsely told the government and the health service that his diocese was reporting all abuse allegations to authorities.
It also found that the bishop deliberately misled another inquiry and his own advisors by creating two different accounts of a meeting with a priest suspecting of abusing a child, one for the Vatican and the other for diocesan files.
In a statement released on Monday, Dr Magee said he accepted "full responsibility" for the findings.
"I feel ashamed that this happened under my watch - it shouldn't have and I truly apologise," he said.
"I did endeavour and I hoped that those guidelines that I issued in a booklet form to every person in the diocese were being implemented but I discovered they were not and that is my responsibility."
The victims' group One in Four welcomed the bishop's offer to meet survivors.
However director Maeve Lewis said Dr Magee needed to hold a full news conference where victims' would have the opportunity to ask the many questions raised by the report.