Bishop Magee apology 'meaningless words' says victim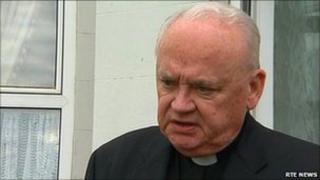 A woman abused in the diocese of Cloyne as a child has said an apology from the former bishop is "meaningless".
In a statement Dr John Magee said he felt "horrified and ashamed" by abuse in his diocese.
It was Dr Magee's first public statement since publication of the Murphy Commission report into the diocese's handling of child abuse.
"I'm not impressed by his apology. If he crawled on his belly it would be too late," said the victim.
Published in July, the report examined abuse in the diocese which covers mid, east and north Cork, up until 2009.
It found that Dr Magee, who was Bishop of Cloyne from 1987 to 2009, falsely told the government and the health service that his diocese was reporting all abuse allegations to authorities.
It also found that the bishop deliberately misled another inquiry and his own advisors by creating two different accounts of a meeting with a priest suspecting of abusing a child, one for the Vatican and the other for diocesan files.
In the statement released on Monday, Dr Magee said he accepted "full responsibility" for the findings.
"I feel ashamed that this happened under my watch - it shouldn't have and I truly apologise," he said.
"I did endeavour and I hoped that those guidelines that I issued in a booklet form to every person in the diocese were being implemented but I discovered they were not and that is my responsibility."
'Blind eye'
The woman, who does not want to be identified, said Dr Magee had "cultivated the art of telling lies".
"I spoke to that man in 2005. He pretended to be so shocked by my story, yet we read in the Murphy Report they knew about this particular priest so many years ago," she said.
"He has no concept at all of the abuse.
"He said on his 'watch' and he was 'horrified' when he read the report at what happened on his watch.
"The point is he knew exactly what was going on. He has known about this abuse for so long, yet he turned a blind eye. What was he doing on his watch that he was able to look the other way?"
Dr Magee also offered to meet abuse victims and apologised "on bended knee".
"I beg forgiveness, I am sorry and I wish to say that if they wish to come and see me privately I will speak with them and offer my deepest apology," he said.
The bishop, who was private secretary to three popes, said he had been "truly horrified" when he read the full extent of the abuse in the report.
However, the victim said apologies would "never go far enough".
"It's too late for us now, the only thing it's not too late for is that maybe there will be a future where people will be more enlightened, more aware and protect their children better," she said.
Asked about restitution for victims, Dr Magee said it was a matter for the Cloyne Diocese.
BBC Dublin reporter Jennifer O'Leary said "many of the victims in Cloyne of clerical sex abuse have dismissed Dr Magee's reports as empty and insincere".
The Cloyne report said Dr Magee's response to accusations of clerical child sex abuse was "inadequate" and "inappropriate".