Bishop Magee breaks silence on child abuse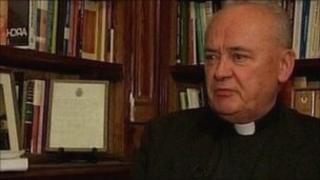 The former Bishop of Cloyne, Dr John Magee, has said he feels "horrified and ashamed" by abuse in his diocese.
It was Dr Magee's first public statement since publication of the Murphy Commission report into the diocese's handling of child abuse.
He said he fully accepted responsibility for the failure to implement the church's child protection guidelines.
Dr Magee offered to meet abuse victims and apologised "on bended knee".
"I beg forgiveness, I am sorry and I wish to say that if they wish to come and see my privately I will speak with them and offer my deepest apology," he said.
The bishop, who was private secretary to three popes, said he had been "truly horrified" when he read the full extent of the abuse in the report.
Asked about restitution for victims, Dr Magee said it was a matter for the Cloyne Diocese.
Dr Magee said he accepted "full responsibility" for the findings.
"I feel ashamed that this happened under my watch - it shouldn't have and I truly apologise," he added.
"I did endeavour and I hoped that those guidelines that I issued in a booklet form to every person in the diocese where being implemented but I discovered they were not and I that is my responsibility."
BBC Dublin reporter Jennifer O'Leary said "many of the victims in Cloyne of clerical sex abuse have dismissed Dr Magee's reports as empty and insincere".
"The Cloyne report told us Dr Magee's response to accusations of clerical child sex abuse was 'inadequate' and 'inappropriate'," she said.