Tyrone missionary's Chinese medal to be auctioned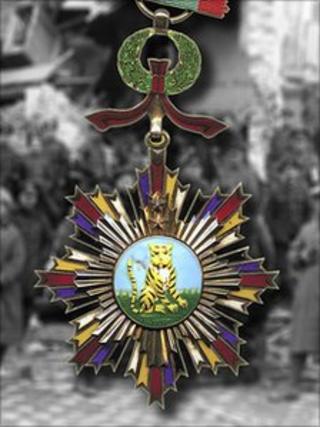 A medal awarded to a courageous Presbyterian missionary is to be auctioned in Hong Kong later this week.
The silver-gilt and enamel Order of the Striped Tiger decoration was awarded to Dr Frederick O'Neill for his work as chaplain to the Chinese Labour Corps in France during World War I.
Dr O'Neill, a native of Dungannon, County Tyrone, was 27 when he was sent by the Irish Presbyterian Church to Manchuria in north-east China in 1897.
He and his wife, also a Presbyterian missionary, were to survive several periods of conflict during their stay in the country.
One of his descendants provided some details of the missionary's career in pre-Communist China.
He revealed that Dr O'Neill, a fluent Chinese speaker, went unmolested in 1900 during the Boxer Revolution which opposed foreign imperialism and Christianity.
Condemned to death
His house was wrecked but later a Chinese dictionary was returned to him.
In 1904 during the Russo-Japanese war, he assumed Chinese garb of blue cotton although he had blue eyes and did not expect to pass as Chinese.
At one stage he was condemned to death by the Russians.
In 1917 he was attached by the YMCA to the Chinese Labour Corps, whose members were recruited by the British government and sent to France to support troops by carrying out manual labour tasks.
It was on his return to China after the war that he was awarded the Order of the Striped Tiger.
Dr O'Neill was based in Fakumen, a town of about 15,000 people among foothills about two days walk from Mukden, the chief city of Manchuria.
Arrested by Japanese
When the invading Japanese army reached Manchuria in 1931, he was permitted to carry on with his work for some years, ministering to an area roughly equal in size to Northern Ireland.
Each journey around his "parish" was carried out on foot and took about one month.
Relatives believe that the school and church established by Dr O'Neill still exist.
He and his wife, however, were arrested by the Japanese in 1941, taken to Japan and interned in Kobe.
The following year, they were freed and allowed to return home as part of an exchange of religious and diplomatic prisoners.
Dr O'Neill retired to east Belfast where he died, aged 82, in 1952.
His Order of the Striped Tiger decoration will be auctioned in Hong Kong on Thursday by numismatist specialists Baldwins.
It is estimated to fetch US $5,000-$6,000.