MLA reports anti-Catholic Facebook page to police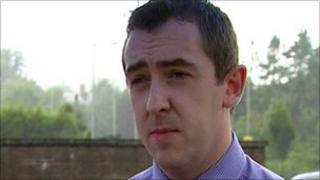 A Sinn Fein MLA has said he has been threatened by a member of the Ballymaconnelly loyalist flute band on a social network site.
North Antrim MLA Daithí McKay lodged a number of complaints with police about anti-Catholic comments and a death threat.
Mr McKay said the comments had been posted on Facebook.
A spokesperson for the Ballymaconnelly band said the band had not made any derogatory comments on the internet.
They also said the band would not be dragged into trying to raise tensions in the village by commenting further.
Mr McKay said: "A member of the Ballymaconnelly band has been making threatening comments towards me and the Catholic community in general on Facebook.
"He made a direct threat towards me in July and that is currently being investigated by the PSNI."
Mr McKay said comments such as "kill all taigs" and "scum in Rasharkin" appeared on the Facebook page.
"Such comments make it quite clear that the author, in this case a member of the Ballymaconnelly band, is only parading through Rasharkin for sectarian reasons," he said.
"I know that many in the local community will be looking at how the PSNI deal with this complaint as a litmus test of how serious they take sectarian death threats in the Ballymoney area."
The police said they have received complaints about offensive comments on a social network site on 27 July and 18 August, and were investigating.
Parade
Every August, the Ballymaconnelly Sons of Conquerors Flute Band, along with 40 other bands, parade through the village of Rasharkin.
There has been trouble at the parade in recent years with unionists angered at Parade Commission determinations changing the route, and nationalists annoyed the parade is allowed to walk through the village at all.
Local nationalist residents said the size of the parade is disproportionate to the size of Rasharkin.
Ballymoney DUP Councillor, John Finlay, said "republican hoods" in the village were trying to "chase and bully Protestants out".
The most recent parade, which took place on Friday evening, was subjected to a determination by the Parades Commission over its route.
"Unfortunately there is not yet a local agreement on how parades should take place in Rasharkin and in that situation the Parades Commission is obliged to intervene," said commission chairman, Peter Osborne.
"Our decision represents our best efforts to strike a balance between the rights of residents and the rights of those who wish to parade."