Striking solicitors to resume 'normal work'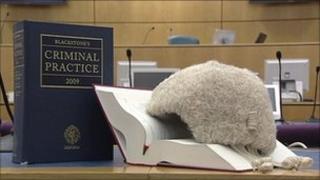 Solicitors on strike over legal aid payments are to resume normal working conditions, according to the Law Society.
The announcement follows talks between the society, the Department of Justice and the Bar Council.
The strike began after legal aid payments were cut in March.
Before this, the Northern Ireland cost was around 20% more expensive per head of population than in England and Wales.
Justice Minister David Ford wants to cut the legal aid budget from £100m to £75m over three years.
Solicitors involved with criminal legal aid work claimed new fees made proper preparations impossible and threatened the right to a fair trial.
President of the Law Society Brian Speers said it had always maintained that a resolution to the ongoing dispute could only be found through "proactive engagement and constructive dialogue involving all parties".
"We are pleased that the discussions to date have been positive and we are hopeful that members will begin returning to work soon," he added.
Adrian Colton, chairman of the Bar Council, said he recognised a change was needed in the legal aid payment system.
However, he defended the right to raise "concerns about the out working of Department of Justice proposals".
Because of the strike action, 537 people facing criminal charges were left without legal representation.
'No diminution'
Commenting on the talks, Mr Colton said: "We welcome the acknowledgement from the department that a number of areas were not included within the 2011 Rules and are satisfied with the minister's undertakings to address these.
"We are clear on the need to continue to work constructively to ensure no diminution of the independence or effectiveness of the criminal justice system as it serves the whole of Northern Ireland."
The justice minister said his "preferred option was that those who had previously done such work continued to do so for the remuneration which could be afforded under the budget for the Department of Justice".
"This is good news for the administration of justice and good news for the citizen seeking access to justice in Northern Ireland," he added.
The department had previously threatened to introduce a system of directly employed public defenders should the solicitors continue to refuse to accept work on the new terms.
It is understood that there are no major changes to the new legal aid terms, but the department is willing to consider some minor additional payments that were not initially included.
However, the Law Society Council cannot direct solicitors to take, or not take, work. It is believed the strike will end while the society continues to "review" the new arrangements.