Partner feels 'vindicated' by Brendan Lillis release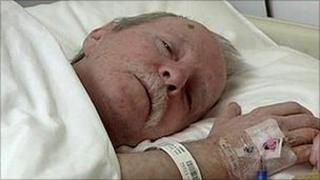 The partner of republican prisoner Brendan Lillis has said she feels "vindicated" following his release.
His family had campaigned for his release on compassionate grounds because he suffers from a severe form of arthritis.
But unionist politicians have criticised Mr Lillis being freed on licence, likening it to the release of the Lockerbie bomber.
The justice minister has defended the decision by the Parole Commissioners.
David Ford also said Mr Lillis could still stand trial if his health improved.
The Parole Commissioners do not usually comment publicly on their findings but following criticism of the decision they denied to bowing to political pressure.
In a statement they said: "The Parole Commissioners have been tasked with making decisions about prisoners according to established procedures.
"All decisions made by commissioners comply rigorously with these procedures and they have not departed from them in respect of decisions made about Brendan Lillis."
The 57-year-old suffers from the arthritic condition, ankylosing spondylitis, and is expected to remain in Belfast City Hospital for some time. He was transferred there from Maghaberry Prison last week.
Mr Lillis was sentenced to life in 1977 on explosives charges, but was freed on licence in 1993. It was revoked in 2009 after he was arrested on robbery charges.
"On top of my illness I feel elated," Mr Lillis said.
He added that his licence had been "reinstated as before".
Mr Lillis thanked his partner Roisin Lynch, who along with Sinn Fein and SDLP MLAs had campaigned for his release on compassionate grounds because of his deteriorating health.
"Roisin has moved mountains. Somebody who can do that on their own, well I can't say enough about her," he added.
Speaking about the release on Thursday night Ms Lynch said that it brought to an end a "horrific" two years.
"Being able to walk into that room tonight and see my partner without having guards sit there, being able to visit without people watching me, to kiss him without being watched on camera, I feel vindicated, absolutely vindicated," she said.
"I have told the truth all along about Brendan's medical condition and the paperwork backs up what I have said.
"You have to show compassion on some level. I would be just as compassionate if it was someone from the other side of the fence that was in the same situation.
"Bringing him back into jail, lying in a bed, the only place he can go is down."
Charges not dropped
Following the release of Mr Lillis, the justice minister once again emphasised that the decision to release the republican lay with the Parole Commissioners and not his department.
And Mr Ford also stressed that should his condition improve he could be returned to custody and even face trial.
"It has been reported that charges against Mr Lillis have been dropped. That is not the case, they are still on the books," the justice minister told Radio Ulster.
"The decision that was taken by the Court Service this year was that he was not fit to stand trial which was of course an entirely different issue as to whether he would be fit to be treated in the prison hospital.
"As I understand it the matter is being kept under review and it will be possible if his medical condition improved that he would be returned for trial on the charges which he faces from his alleged activities two years ago."
Mr Ford has faced criticism from DUP politicians over the matter, with Edwin Poots saying it could be the justice minister's "al-Megrahi moment", referring to the early release of the Lockerbie bomber back to his native Libya.
But Mr Ford rejected the comparisons and said the decision to release Abdelbaset Ali al-Megrahi was taken by a Scottish minister and that Mr Lillis was not being released "in the same sense" because he remains free only on licence.